About Us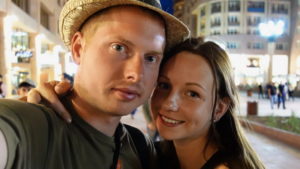 Adik
Birth: 1980 Prague
Education: High technical school of agronomy
Professes: IT System Specialist
Hobbies: traveling, photographing, offroad, motorbike, djing, sound production, programing, fotbal, kiteboarding, snowkiting, snowboarding, films(scifi, nature documents), planting, animal behaviour and of course our dog!
Adik's Travel Map
Niki
Birth: 1989 Beroun
Education: University of International and Public relations
Professes: PR Specialist
Hobbies: Enjoy all sports, especially snowboarding and motorbiking but also like reading and music. Love to travel and experience different culture.
Nikil's Travel Map
Annie
Birth: 2004 Mníšek pod Brdy
Bereavement: 2018 Morocco
Professes: safekeeping, barking, best friend and teammate ever
Hobbies: tennis balls, sticks, water, snow and everything "in move" (especially flying discs and kites)
Comment: Annie left us in age of almost 14 years during our journey to West Afrika because of her age and healty. We are very sad about that. She loved traveling and exploring new places around the world. She will always be in our hearts not only during our jurneys!
If you would like to send us a message, please use this contact form. We will answer you as soon as possible.